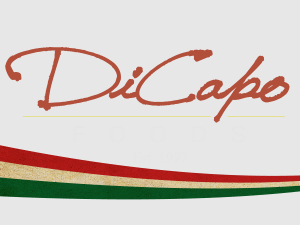 DiCapo Foods is a family business (mother and son) that was started in 1997 in the kitchen of John David DiCapo with the idea making arancini (Italian Rice Balls) and selling them throughout the country. That idea didn't work very well so the DiCapo's bought Jim's Famous Hot Tamales, a Kansas City iconic food product. That was great and lasted 16 years but there was still some production time at DiCapo Foods that needed to be filled and Mom (Sugie DiCapo) needed to make Italian cookies for the Christmas of 1999 so that year DiCapo Foods introduced Italian Holiday and Wedding cookies to our customers and we finally found something people really couldn't get enough of.
Italian Cookies are a tradition with Italian families especially at holiday season and with the older folks not making them anymore and the younger generation either not having the time or the knowledge of how to make them it's become a great business for us.
We take a tremendous amount of pride in making these wonderful cookies using only the finest ingredients and recipes handed down through the Donnici and DiCapo families.
Please enjoy our cookies and know that they are made with love from our family to yours.
Sabenadica, (God be with You)
John David DiCapo