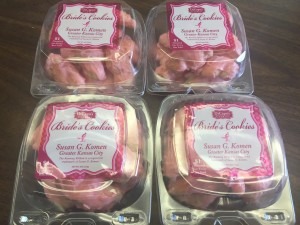 DiCapo's Cookies does more than make the best cookies, we help our community. During October, $1 from every package sold of our delicious Pink Bride's Cookies will be contributed to the Susan G. Komen Foundation of Greater Kansas City.
The Foundation saves lives by meeting the most critical needs in our community and investing in breakthrough research to prevent and cure breast cancer.
Please join us in supporting this worthwhile cause by merchandising the Pink Bride's Cookies in your establishment. We will advertise your store as a participant in this promotion; your suggested profit margin is 33%; and you are supporting all  of the people who benefit from the valuable work of the Susan G. Komen Foundation.
Participating in this program can drive customers to your establishment, increase customer loyalty, show you social consciousness, and validate your community involvement.
This is your chance to join the pink ribbon movement and the fight against breast cancer.
John DiCapo
DiCapo's Cookies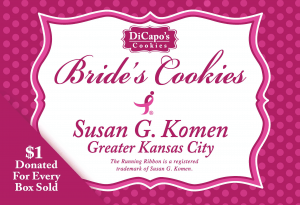 The wholesale cost of each 8oz. package is $4.00 or $96.00 per 24 ct case. The retail price of each package is $5.99 returning you a 33% profit. We send the $1 to the Susan G. Komen Foundation.
A retail rack holding either 12 or 27 boxes is available for you to display the cookies and promote the fund-raising event.